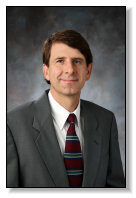 ALABAMA STATE BAR: Member since 1982, Alabama; 1983, U.S. District Court, Middle District of Alabama and U.S. Court of Appeals, Eleventh Circuit
MEMBER: Houston County Bar Association; Alabama State Bar
BORN: July 7, 1957, Dothan, Alabama
EDUCATION:
University of Alabama School of Law (Juris Doctorate, 1982)
University of Alabama (magna cum laude, 1979)
Beta Gamma Sigma (Business honorary)
Beta Alpha Psi (Accounting honorary)
Psi Chi (Psychology honorary)
Alpha Lamba Delta (Freshman honorary)
Houston Academy (1975)
ORGANIZATIONS:
Houston County Bar Association
Alabama State Bar
First Presbyterian Church
Chairman of the Diaconate (Deacon), 1992, 2010
Fellowship Chairman, 1991
Wiregrass Hope Group
Past President of Board of Directors
Wiregrass Childrens' Home
Former Director
PRACTICE AREAS:
Real Estate (Closings/Title Searches/Document Preparation)
Residential
Commercial
Agricultural
Foreclosures
Powers of Attorney
Leases
Wills and Estates
Preparation of Wills
Probate of Wills
Probate of Estates (with no will)
Living Wills
Business
Corporation
LLCs
Partnerships
Commercial Collections
Banks/Lender Representation
Commercial Lending
Commercial Loan Agreements
UCC
LEGAL EXPERIENCE:
Charles McDougle has been with Ramsey, Baxley & McDougle since he was admitted to practice, joining the then named firm of Ramsey & Baxley in 1982. He was made a partner in 1985, and the firm took its present name, Ramsey, Baxley & McDougle. Mr. McDougle heads the real estate section of the firm and his practice encompasses virtually all aspects of real estate law, with particular emphasis in residential and commercial closings. He is an approved attorney for First American Title Insurance Company, Chicago Title Insurance Company and Stewart Title Guaranty Company and is licensed to issue title insurance policies in connection with his real estate closings.
Interacting with the the various parties involved in a residential closing, including buyers, sellers, realtors and lenders, is something that Charles particularly enjoys. He is adept at putting all the "pieces of the puzzle" together, beginning with the sales agreement, researching the title to the property, reviewing the lender's closing instructions, and then organizing it all together for a smooth and successful closing. He is proud that his reputation is such that many other attorneys and judges have come to him to handle their personal real estate closings.
In recent years, Mr. McDougle has been retained by numerous lenders to handle large commercial closings, including an apartment building in Monroeville, Shops on the Circle shopping mall in Dothan, O'Charley's Restaurant in Dothan, Emerald Pointe Townhomes in Lake Eufaula, La Bamba Mexican Restaurants in Southeast Alabama, Golden Oval Eggs in Abbeville, Flying J Travel Plaza in Dothan and SQ Fabrication Plant in Andalusia. Some current real estate related clients include the Southeast Alabama Regional Planning and Development Commission, Alabama Ag Credit (formerly known as the Federal Land Bank), BBVA Compass Bank, SunSouth Bank, MortgageAmerica and Slocomb National Bank (or Friend Bank as it is sometimes known).
Mr. McDougle also enjoys helping clients make out their wills and guiding personal representatives, executors and heirs through the probate process, as well as reviewing leases, contracts and prenuptial agreements.
In addition to closings, real estate litigation has become a significant portion of Charles McDougle's practice. His extensive experience examining titles to real estate has enabled him to confidently and proficiently file lawsuits when necessary to establish title to real estate, particularly involving heirship property. Additionally, Mr. McDougle has also been involved in litigation to enforce liens on property and to establish easements (see, for example, McArdle v. Bromfield, 540 So2nd 91). Developing a litigation emphasis in large commercial collection cases has given Mr. McDougle a solid knowledge and expertise in real estate transactions in the Wiregrass area.
PERSONAL:
Mr. McDougle was born in Dothan, Alabama, on July 7, 1957. He attended public elementary schools and, later, Houston Academy, where he lettered in basketball, golf and tennis. After graduation in 1975, he attended and graduated from the University of Alabama with an Accounting degree (magna cum laude) and the University of Alabama School of Law (1982). He began working for the Ramsey and Baxley law firm following graduation and was named a partner in 1985. In 1986, he married the former Michelene Dees and they have three daughters and two granddaughters. They attend First Presbyterian Church where Charles is the past Chairman of the Diaconate. He is an avid golfer and enjoys watching Alabama football.